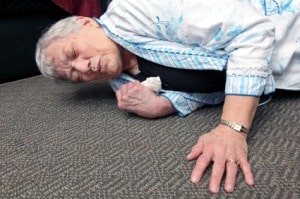 "Accidents in the home" involve situations where you're injured in someone else's home.  Under certain circumstances, you may be able to recover monetary damages from the owner, through his or her homeowner's insurance policy. 
In Nevada and California, the owner or occupant of a home has an ongoing duty to maintain the residence in a reasonably safe condition, and to warn guests, repairmen and others who come onto the premises of any potentially dangerous conditions that could cause injury.  The owner also has the responsibility to fix or repair any potentially dangerous conditions that exist in and around the home, so that the premises are reasonably safe.  If the owner or occupant breaches that duty by failing to warn you of a potentially dangerous condition and you're injured as a result, then the owner or occupant of the property can be held fully and legally responsible for all of your damages.  This includes, without limitation, (i) past and future medical expenses; (ii) past and future wage losses; (iii) past and future pain and suffering; (iv) past and future emotional distress, and (v) the loss of the quality and enjoyment of your life. 
In order to win your case, however, you must be able to prove (i) that there was a dangerous or defective condition on the premises; (ii) that the owner or occupant knew, or should have known about the condition; (iii) that the owner or occupant had a sufficient opportunity to correct the condition or warn of its existence; (iv) that you acted reasonably under the circumstances; (v) that the accident caused or contributed to your injuries; and (vi) that you suffered damages as a direct result.
If you or someone you know has been injured in someone's home, you should NOT give a recorded statement to the owner's insurance company, or to anyone else, without first consulting an experienced attorney.  The insurance company does not represent you, and in the vast majority of cases, only wants to limit the amount of money it may ultimately have to pay. 
You can reach Edward J. Achrem & Associates by dialing (702) 734-3936.  We can usually tell you over the phone whether you have a good case.  If you're outside Nevada, dial (888) 734-6789.